Feature Requests

We'd love to know what you're thinking about AbleCommerce Gold!
Find the new FEEDBACK button located in the middle of the right side of the Merchant Menu Dashboard.
Login with your existing Facebook or Google account, or simply provide your email address.
Before submitting a new feature, please go to http://ablecommerce.uservoice.com/ and search to see if it has already been requested.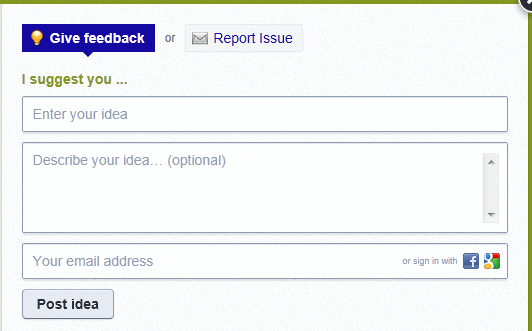 All feature requests submitted will need votes in order to be considered for a future release.  You will have exactly 10 votes to use for any of the features that exist or new ones that you wish to submit.  If a feature is added, then it will be closed and you will have your votes returned so they can be used on a different request.
Bug Report Requirements
Find the new FEEDBACK button located in the middle of the right side of the Merchant Menu Dashboard.  

Gather the following information, and click the Report Issue link as shown in the screenshot below.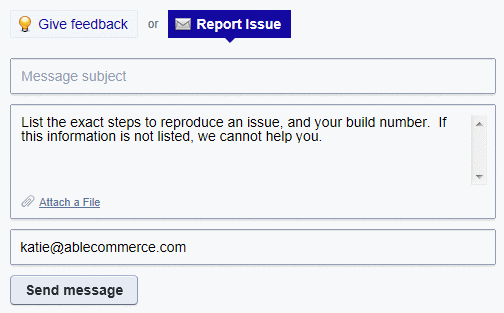 If you do not provide this information, then don't expect a response.  The Feedback mechanism is not a support forum and can only be used for logging bug reports.
Find your AbleCommerce version and build.

- Login to your Merchant Administration, and view the footer on any page to find this information.


Be able to provide the exact steps to reproduce the issue.  

- This is very important and should include any setting and configuration information.  Provide all necessary details to reproduce the issue.


Provide any error messages, or state what the program should have done differently.

- You may include attachments, pdf, txt, gif, and jpg will be accepted.

DO NOT provide login credentials or any sensitive information.  This information is sent through email which is not secure.


What happens to my bug next?

The development team will review new bug reports at least once a week, or as needed for critical issues.


When your report is reviewed, a developer will first determine if the information given is adequate and meets the minimum requirements given above. If you have provided a valid bug report, then the issue will be accepted for further testing. It may take up to one additional week for reproduction attempts.


During the testing process, we will try to reproduce the issue using the current version of AbleCommerce. If the issue is a confirmed bug, the development team will log it and set a severity*. Although we cannot guarantee that every issue will be fixed, we do attempt to resolve bugs in upcoming versions, a service patch, or hot patch for critical issues.

* The severity of any issue will ultimately be determined by the change review team. If an issue is determined to be critical or security related, a hot patch or work-around may be provided.
Getting Help from AbleCommerce Technical Support
If you require technical support assistance with AbleCommerce, then please open a support ticket by logging in with your username and password.  We will investigate the issue and let you know if priority support time is required.  We try to respond within a few hours, but please allow a maximum of 24 hours from the time you open your ticket.

All new purchases come with one-year of free standard technical assistance.  This includes the following types of issues:
Installation support on systems that meet the minimum system requirements.

Any licensing issue including installation of keys and troubleshooting key errors.

Any built-in feature including configuration and how it is used.

Technical Issues that we may be able to help with that fall under paid support:
Importation of your data

Search Engine Optimization

General Consulting on improving your existing store

Upgrades and Migrations
Configuration of your IIS application or database

PA-DSS / PCI compliance

Troubleshooting your customization issues or 3rd-party plug-ins.

Data problems due to a bad import or customization.
There are some issues that we are not able to help with, such as:
What happens if my support plan is expired?
Even if your support contract has expired, you may still open a support ticket.  However, the only free coverage available will be issues related to licensing or installation of keys.
For all other technical issues, we will review the issue that you are having and ask that you purchase an appropriate amount of support time.
To see if you have an active support contract, login to your account and view the Subscriptions page.  This will show you the status and expiration date of the support plan named "Technical Support for one year".  If this does not appear within your Subscriptions page, then the plan has been expired for more than 90 days and is canceled.
What if the issue I'm having needs to be escalated?
There are sometimes cases when the issue being reported cannot be reproduced by us, or we haven't had any other customers reporting the problem. This usually requires that some detailed investigation must be done. We may need to gain access to your installation or the server itself, which means you will need to login to your AbleCommerce account and open a support ticket.

After opening a support ticket, you may be asked to purchase priority support time, but our policies are fair and reasonable. Once you purchase the time, a pending authorization will be put on the credit card. When opening a support case, be sure to provide access to the installation, detailed information on the issue, and any errors so our technical support team will be able to find a resolution for you.

After the case is resolved, the technician will let you know if it is a valid bug or some other issue. Please keep in mind that we are unable to help with customization issues. However, if there is a confirmed bug, then the pending authorization will be voided and your support order canceled. If the issue was caused by an invalid setup, configuration, data import, improper use of the software or it's supporting documentation, then the issue will be charged to your account.


Priority Support can be purchased here:
http://www.ablecommerce.com/Software-Support-C112.aspx

Free assistance is always available here:
The community forums are also a great way to find answers if you are not sure that the problem you are having is a bug. Although, we cannot guarantee a response, there are other customers, partners, and developers who do try to assist.