How do I setup FedEx Web Services?  Obtain a developer key and then a production key.
In order to enable FedEx web services with AbleCommerce, complete the following steps:
Step 1. Register with FedEx online using one of the links below.
You must register for an account option that includes a FedEx meter number. This means you cannot use the user ID only option. If you are already registered for FedEx online and have a meter number, skip to step 2.
Step 2. Visit the FedEx Developer Resource Center and log in with your FedEx online user id:
All customers visit: http://fedex.com/us/developer/
If prompted, read and accept the license agreement for the developer resource center.
Step 3. Obtain Test Credentials to Verify Communication with FedEx
Once at the developer center home screen, from the left menu navigate to:
Technical Resources > FedEx Web Services for Shipping > Develop & Test Your Application
From the screen that displays click obtain developer test key. Then complete the form and accept the agreement.
Following this step you will be shown a registration confirmation screen giving the account and meter numbers required below.  
FedEx will send your test password in a separate confirmation email.
e.g. Initial configuration page within AbleCommerce

Step 4. Obtain a production level key.
At the conclusion of the signup process, you will need to have a production level key.
Once the initial developer key is obtained, you may request a production one.  However, before doing so, please ensure that your FedEx services and rates appear during checkout.
e.g. Final configuration page within AbleCommerce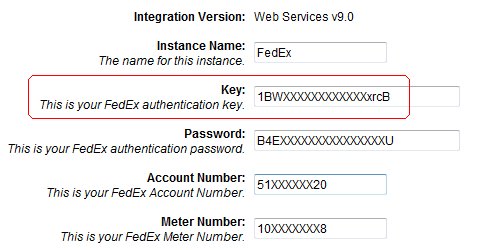 If you don't have a meter number, just sign up to get a new one. The meter number is insignificant - the account number is what matters and the merchant will need to enter this when registering for the development key.